This is Copper 2019 - ongoing

Materials: Copper slag geopolymer, copper metal, drill core geological samples from Konnecott Mine

Copper is ubiquitous to our world, yet almost entirely hidden behind walls, wires, and motors. Nearly every vision of the renewable electric future requires copper.

But what is copper?

The metal we know is only part of a much wider material story. Mining overburden, tailings, metal concentrates, rare metals like gold and silver, sulfuric acid, slag—all of this is copper, or in other words is a direct result of processing, using, and recycling copper.
This projects exposes and proposes potential uses for these overlooked byproducts as we continue to search for new ore streams of lower and lower grade.

Why use slag?

Slag is a byproduct of copper refining. A glassy and black rock, it is a result of pyrometallurgical processing of copper concentrate from mined ore as well as recycled sources. Indeed, recycling copper also has its wastes.

For each part of copper, 3 parts of slag are made. At 39 million tonnes per year, this pales in comparison to the 2 billion tonnes of tailings. Yet slag is unique in that it has already been heated at high temperatures, making it highly reactive to geopolymerisation.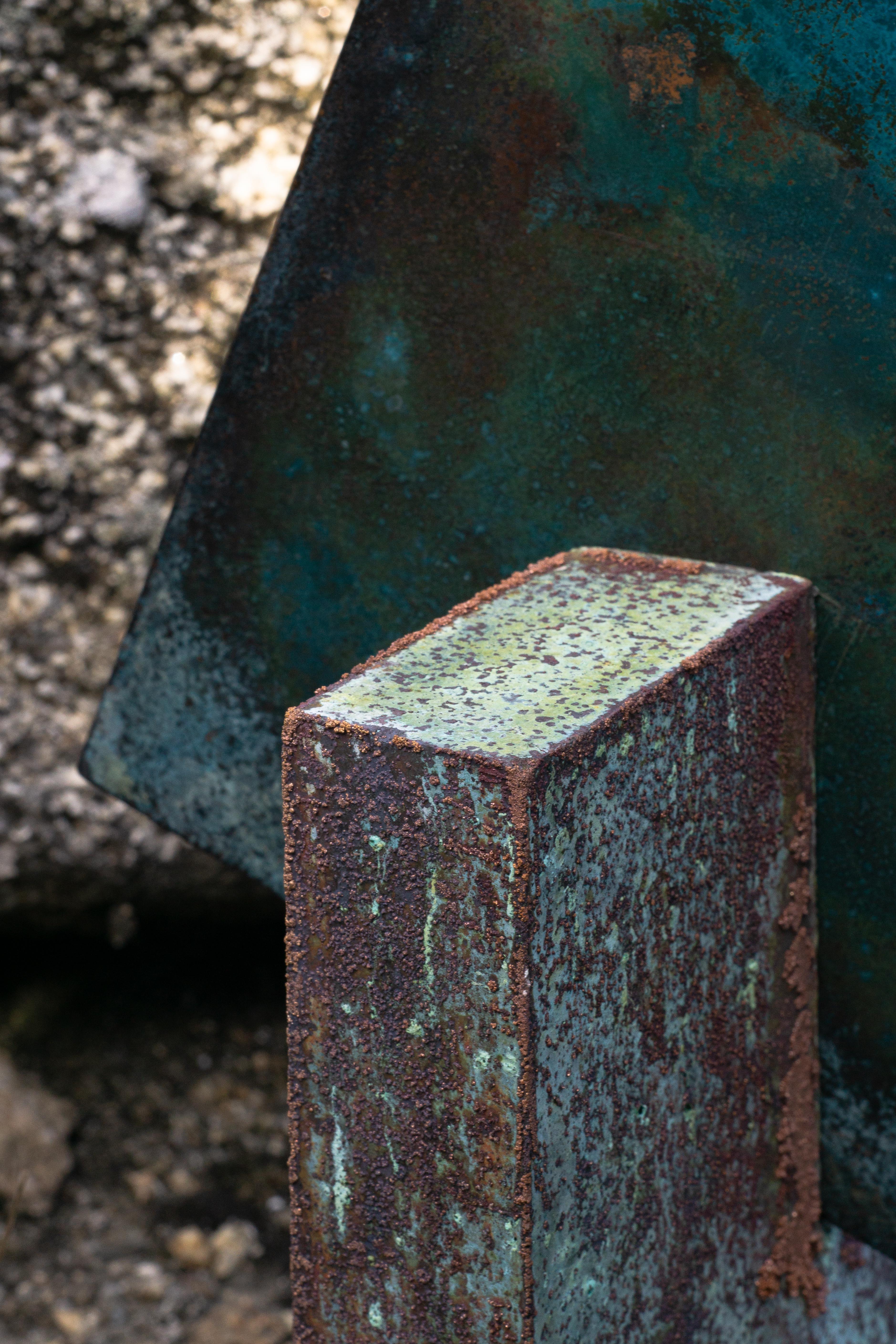 What is a geopolymer?

Coined by Josef Davidovitz in 1979, a geopolymer is a complex 3D molecular structure formed of inorganic compounds. Think of it like cross between a stone and a plastic. With high compressive strength, acid resistance, and hydrolytic stability, the material is a promising alternative to portland cement.
Portland cement represents 6% of global carbon emissions. For each part of cement, 1.65 parts of CO2 are emitted, with over half of that being a result of the actual chemistry.

With no CO2 emitting chemistry and superior strength, slag-based geopolymers stand to offset the need for portland cement and reduce carbon emissions substantially (researchers have shown up to 80% less CO2), while making use of a waste.
Through tests and experimentation, working in consultation with KU Leuven's SREMat lab, this project aims to valorize the byproducts of copper and reveal the backstory to its production.
In an age of increasing demand for electric vehicles and renewables, our need for copper is driving us to lower grade orestreams and ever more waste.

How can we mitigate this in a proactive way by not only using those wastes but actually offsetting negative impacts elsewhere?
---
The Crown Mine, near Landsend, Cornwall. These mines had tunnels that would extend hundreds of meters out into the ocean, with harsh and incredibly dangerous conditions for the miners.




The Wheal Maid Mine, not to be confused with Wheal Maiden, which is the cottage of a freindly elderly lady a short walk from the mine itself. Thiswas primary a tin mine,with some copper mining running adjacently, as it often does. The tailings of this mine are still there, high in arsenic, staining the ground a vibrant yellow.



The Caradon Mine, once the largest producer of copper in Cornwall, a region responsible for 80% of the global copper supply by the later half of the 19th century.